Urolitiasis en pequeños rumiantes
María Angélica Ramírez Soria

Programa de Maestría y Doctorado en Ciencias de la Producción y de la Salud Animal. Universidad Nacional Autónoma de México, México.

Agustín Martínez

Grupo de Salud Animal, Instituto Nacional de Tecnología Agropecuaria (INTA), Bariloche, Argentina

Carlos Robles

Grupo de Salud Animal, Instituto Nacional de Tecnología Agropecuaria (INTA), Bariloche, Argentina
Resumen
La urolitiasis es una enfermedad del tracto urinario que afecta a ovinos y caprinos siendo más frecuente en producciones intensivas y semi-intensivas. Clínicamente se caracteriza por depresión, letargia, rechinar de dientes, inapetencia, oliguria, goteo de orina en casos de obstrucción parcial, deshidratación, hinchazón prepucial, distención abdominal, renuencia a moverse y muerte. Los cálculos más comunes son los de sílica, estruvita, oxalatos y fitoestrógenos y en su génesis se involucra a factores nutricionales, ambientales, de manejo y los de tipo fisiológicos y relacionados al animal, como la edad, la raza y la castración. Existen tratamientos médicos a base de sedantes y relajantes musculares, antinflamatorios, antibióticos, diuréticos y acidificantes de la orina, que aplicados en etapas tempranas de la enfermedad son efectivos. Es necesario profundizar la investigación en cuanto a la patogenia de la enfermedad y los factores de riesgo, ya que son herramientas clave en el diagnóstico temprano, el control y prevención de la urolitiasis en pequeños rumiantes.
Urolithiasis in small ruminants

Abstract. Urolithiasis is a disease affecting the urinary tract of sheep and goat, being most frequent in intensive and semi-intensive breeding systems. Clinically, it is characterised by depression, lethargy, teeth grinding, inappetence, oliguria, leakage of urine in cases of partial obstruction, dehydration, prepucial swelling, bloating, reluctance to move and death. The most common calculi are those of silica, struvite, oxalates and phytoestrogens, and their genesis involves nutritional, environmental, management factors and physiological factors related to animals, like de age, breed and castration. There are medical treatments based on sedatives, muscle relaxants, anti-inflammatories, antibiotics, diuretics and urine acidifyiers, that in early stages of the disease are effective. It is necessary to deepen research regarding the pathogenesis of the disease and risk factors, since they are key tools in the early diagnosis, control, and prevention of urolithiasis in small ruminants.
Citas
Abba, Y., Abdullah, F.F.J., Bin Abu Daud, N.H., Bin Shaari, R., Tijjani, A., Sadiq, M.A., Mohammed, K., Adamu, L., Mohd, A.M.L (2015). Clinical management of dietary induced urolithiasis associated with balanoposthitis in a Boer goat. Open Veterinary Journal. 5: 30–33.

Bailey, C.B. (1981) Silica metabolism and silica urolithiasis in ruminants: A review. Canadian Journal Animal Science. 61: 219–235.

Bani Ismail, Z.A., Al-Zghoul, M.F., Al-Majali, A.M., Khraim, N.M. (2007). Effects of castration on penile and urethral development in Awassi lambs. Bulgarian Journal of Veterinary Medicine. 10: 29-34.

Belknap B.E. y Pugh D.G. (2001). Diseases of the Urinary System. In Sheep and Goat Medicine, Pugh, D. G. 2ª edition, W.B. Saunders, Saint. Louis, USA.255–276.

Boscán, O.J., Sánchez, O.F., Pino, R.D., Sánchez V.A., Villarroel N.R., Monasterio O.L. (2004). Estudio de la obstrucción uretral en un cabrito. Caso clínico. Revista Científica 14: 1-14.

Bradford, P.S. (2010). Enfermedades del sistema renal del rumiante. En Medicina interna de grandes animales. 4ta edición, Elsevier Mosby. España. 949-958.

Cypher E.E., van Amstel, R.S., Videla, R., Force Clark, K., Anderson, D.E. (2017). Vesicopreputial anastomosis for the treatment of obstructive urolithiasis in goats. Veterinary Surgical. 46: 281–288.

Ewoldt J.M., Jones, M.L., Miesner, D.M. (2008). Surgery of obstructive urolithiasis in ruminants. Veterinary Clinical Food Animal. 24: 455–465.

Gazi M.A., Makhdoomi D.M., Mir S.A., Sheikh G.N. (2016). Urinalysis - A Diagnostic Factor for Urolithiasis and Prognostic Factor for its Recurrence in Young Ruminants. Journal of Veterinary Science Technology. 7(4): 336-341.

Guimarães, J.A., Mendonça, C.L., Guaraná, E.L.S., Dantas, A.C., Câmara, A.C.L., Farias, C.C., Afonso, J.A.B. (2012). Estudo retrospectivo de 66 casos de urolitíase obstrutiva em ovinos. Pesquisa Veterinária Brasileira. 32: 824–830.

Gutiérrez, C.A.B., Mejía, H.J., Badajoz, M.J.J., Barceló, A.A. (2010). Urolitiasis obstructiva en ovinos: estudio de caso. Acta Universitaria. 20: 34–39.

Harwood, D. y Mueller, K. (2018). "Urinary Tract Disease", Goat Medicine and Surgery, Boca Raton: CRC Press, Liverpool, UK .237-245.

Instituto de Botánica Darwinion. (2020). Catalogo on-line de las plantas vasculares del Cono Sur. Volumen 1. San Isidro, Argentina. http://www.darwin.edu.ar/proyectos/floraargentina/fa.htm.

Jaramillo, L.E., Itza, O.M.F., Peraza, M.G., Carrera, C.J.M. (2017). Ruminal acidosis: strategies for its control. Austral Journal Veterinary Science. 49: 139-148.

Jubb, K.V.F., Kennedy, P.C., Palmer, N. (2007). "The urinary system", Pathology of domestic animals. Vol. 2. 5th Ed., Saunders LTD, New York.2340p.

Kushwaha, R.B., Gupta, A.K., Dwivedi, D.K., Saharma, A. (2011). Obstructive Urolithiasis in Small Ruminants and its surgical management. Intas Polivet. 12: 359-362.

Lai J.M., Chang, M.H., Hwang, M.Y., Wangs, J.H. (2017). Urinary retention caused by botched castration in a goat. Taiwan Veterinary Journal 43: 89-94.

Makhdoomi, D.M. y Gazi, M.A. (2013). Obstructive urolithiasis in ruminants-A review. Veterinary World. 6:233-238.

Minervino, A.H.H., Kaminishikawahara, C.M., Soares, F.B., Araújo, C.A.S.C., Reis, L.F., Rodrigues, F.A.M.L., Vechiato, T.A.F., Ferreira, R.N.F., Barrêto-Junior, R.E., Mori, C.S., Ortolani, E.L. (2014). Behavior of confined sheep fed with different concentrate sources. Arquivos Brasileiro Medico Veterinaria Zootecnica. 66: 1163–1170.
Pearce, S.G., Dearo, A.C., Howard, B.E., Brisson, B.A. (2003). Management of obstructive urolithiasis and concurrent urethral rupture in a goat. Australian Veterinary Journal. 81: 268–270.

Radostits, O.M., Gay, C.C., Hinchcliff, K.W., Constable, P.D. (2006). Veterinary Medicine, a Textbook of the Diseases of Cattle, Sheep, Goats, Pigs and Horses – 10th edition, Saunders Ltd, USA. 2065 p.

Rafee, M.A., Aryambra, S., Baghel, M., Zama, M.M.S. (2016). Obstructive urolithiasis in kids: A study on pattern of occurrence, aetiology, age, clinical symptoms and conditions of bladder and urethra. Veterinaria. 4: 1–3.

Riedi, A.K., Knubben-Schweizer, G., Meylan, M. (2018). Clinical findings and diagnostic procedures in 270 small ruminants with obstructive urolithiasis. Journal Veterinary Internal Medicine. 32:1274–1282.

Riet-Correa, F., Simões, S.V., Vasconcelos, J.S. (2008). Urolitiase em caprinos e ovinos. Pesquisa Veterinária Brasileira. 28: 319–322.

Samal, L., Pattanaik, A.K., Mishra, C., Maharana, B.R., Sarangi, L.N., Baithalu, R.K. (2011). Nutricional strategies to prevent Urolithiasis in Animals. Veterinary World. 4: 142-144.

Scott, P.R. (2015). "Urinary system", Sheep medicine. 2° edition, CRC Press, Taylor & Francis Group, University of Edinburgh, UK.274-284.

Singh, A.K., Gangwar, A.K., Devi, K.S., Singh, H. (2014). Incidence and management of obstructive urolithiasis in buffalo calves and goats. Advances Animal Veterinary Science, 2: 503–507.

Sonawane, G.G., Dubey, S.C., Koli, O.P. (2007). Obstructive urolithiasis in a flock of male weaned sheep at an organized farm in semiarid Rajasthan. Indian Journal Veterinary Pathology. 31: 126–129.

Sun, W.D., Zhang, K.C., Wan, J.Y., Wang, X.L. (2010). The chemical composition and ultrastructure of uroliths in Boer goats. The Veterinary Journal. 186: 70–75.
Sutradhar, B.C., Dey, T., Yadav, S.K., Bostami, M.B. (2018). Surgical Management of Obstructive Urolithiasis in Small Ruminants by Tube Cystostomy in Chittagong, Bangladesh. Journal of Agricultural Science and Technology. 8: 89–98.

Tamilmahan, P., Mohsina, A., Karthik, K., Gopi, M., Gugjoo, M.B., Rashmi Zama, M.M.S. (2014). Tube cystostomy for management of obstructive urolithiasis in ruminants. Veterinary World. 7: 234-239.

Todd, A.R., Cordat, E., Chambrey, R., Dimke, H., Eladari, D. (2016). Acidosis and Urinary Calcium Excretion: Insights from Genetic Disorders. Journal of American Society Neprhrology.27: 3511-3520.

Tokarnia C.H., Döbereiner J., Peixoto P.V. (2012). Plantas Tóxicas do Brasil. Editora Helianthus, Rio de Janeiro. 320p.

Van Metre, D.C. (2007). Prevention of Urolithiasis in Livestock. Colorado, EU: Colorado State University Extension. Recuperado de: http://veterinaryextension.colostate.edu/menu2/sm%20rum/Urolithiasis%20prevention.pdf

Videla, R. y van Amstel, S. (2016). Urolithiasis. Veterinary Clinical Food Animals. 32: 687–700.

VinodhKumar, O.R., Swarnkar, C.P., Shinde, A.K., Singh, D. (2010). Clinical, mineral and haemato biochemical studies of urolithiasis in weaner lambs. African Journal of Agricultural Research. 5: 2045–2050.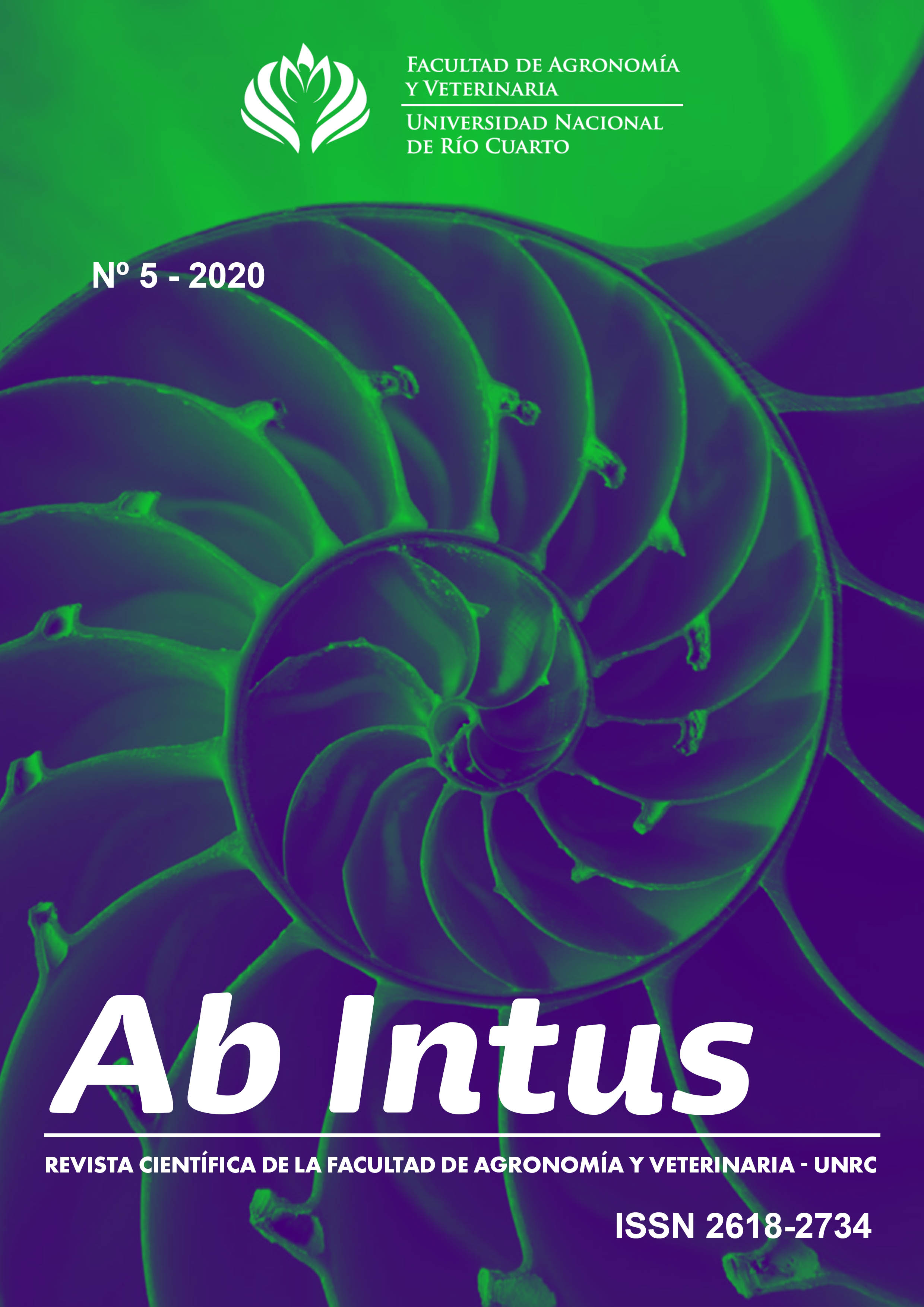 Sección
Revisiones Bibliográficas
Esta obra está bajo licencia internacional
Creative Commons Reconocimiento-NoComercial-CompartirIgual 4.0
.