Poliartritis y neumonía por Mycoplasma bovis en novillos en pastoreo: brote en la provincia de Buenos Aires
Yamila Acuña

Instituto Nacional de Tecnología Agropecuaria, EEA Balcarce, Buenos Aires, Argentina.

Eleonora Lidia Morrell

Instituto Nacional de Tecnología Agropecuaria, EEA Balcarce, Buenos Aires, Argentina.

http://orcid.org/0000-0002-3978-5728

María Andrea Fiorentino

Instituto Nacional de Tecnología Agropecuaria, EEA Balcarce, Buenos Aires, Argentina.

http://orcid.org/0000-0002-2644-6217

Valeria Scioli

Instituto Nacional de Tecnología Agropecuaria, EEA Balcarce, Buenos Aires, Argentina.

Erika Sticotti

Departamento de Patología Animal, Facultad de Agronomía y Veterinaria, Universidad Nacional de Río Cuarto, Córdoba, Argentina.

http://orcid.org/0000-0002-3272-9125

Pablo Tamiozzo

Departamento de Patología Animal, Facultad de Agronomía y Veterinaria, Universidad Nacional de Río Cuarto, Córdoba, Argentina.

http://orcid.org/0000-0002-4501-9026

Germán José Cantón

Instituto Nacional de Tecnología Agropecuaria, EEA Balcarce, Buenos Aires, Argentina.

http://orcid.org/0000-0003-3494-8193
Resumen
Las infecciones por Mycoplasma spp. causan diferentes cuadros clínicos en el ganado. En bovinos, la infección con Mycoplasma bovis usualmente provoca artritis, mastitis, neumonía y/u otitis. Existe escasa información sobre cuadros clínicos asociados a infecciones con Mycoplasma spp. en novillos en pastoreo en Argentina. Este trabajo describe un brote de poliartritis y neumonía causada por M. bovis en novillos en pastoreo en la provincia de Buenos Aires, escasamente reportada en la región. Se registraron los signos clínicos y hallazgos patológicos. Se realizaron necropsias a tres novillos de un año de edad. Se recolectaron tejidos para realizar estudios histopatológicos y bacteriológicos. Se registraron diferentes grados de claudicación en el 4,6% de los animales de un rodeo de 1000 novillos. Se observaron signos respiratorios leves en la mitad de los novillos que manifestaron claudicación. Macroscópicamente, se observó poliartritis en las articulaciones de los miembros delanteros y/o traseros, caracterizada por la presencia de tenosinovitis caseosa severa. Además se observaron múltiples focos de contenido caseoso en el parénquima pulmonar. Se aisló Mycoplasma spp. y se amplificó ADN de Mycoplasma bovis de todas las muestras de contenido articular y pulmón de los tres animales. Esta presentación clínica no ha sido frecuentemente reportada en la región, particularmente en bovinos de carne en pastoreo.
ARK-CAICYT: http://id.caicyt.gov.ar/ark:/s26182734/9ax0l9tea
##plugins.generic.usageStats.downloads##
##plugins.generic.usageStats.noStats##
Citas
Adegboye, D., Halbur, P., Nutsch, R., Kadlec, R., Rosenbusch, R. (1996). Mycoplasma bovis-associated pneumonia and arthritis complicated with pyogranulomatous tenosynovitis in calves. Journal of the American Veterinary Medical, 209: 647-649.

Cantón, G., Llada, I., Margineda, C., Urtizbiría, F., Fanti, S., Scioli, V., Fiorentino, A., Louge Uriarte, E., Morrell, E., Sticotti, E., Tamiozzo, P. (2021) Mycoplasma bovis-pneumonia and polyarthritis in feedlot calves in Argentina: first local isolation. Revista Argentina de Microbiología, en prensa.

Caswell, J., Williams, K. Respiratory system. In: Maxie MG, editor. Jubb, Kennedy and Palmer's Pathology of Domestic Animals. 6th ed., vol. 2. St. Louis: Elsevier; 2016. p. 465-591.

Cerdá R., Xavier J., Sansalone P., de la Sota R., Rosenbush R. (2000). Isolation of Mycoplasma bovis during an outbreak of bovine mastitis at a dairy farm in the province of Buenos Aires. 1 st report in the Republic of Argentina. Revista Latinoamericana de Microbiología 42, 7-11

Constable, P., Hinchcliff, K., Done, S., Gruenberg. W. (2016) Veterinary Medicine 11th Edition. A textbook of the diseases of cattle, horses, sheep, pigs and goats. Saunders Ltd, UK, 2278 pp.

Daniels, T., Bowman, J., Sowell, B., Branine, M., Hubbert. M. (2000) Effects of metaphylactic antibiotics on behavior of feedlot calves. The Professional Animal Scientist, 16: 247-253. https://doi.org/10.15232/S1080-7446(15)31707-1

Fox, L., Muller, F., Wedam, M., Schneider, C., Biddle, M. (2008) Clinical Mycoplasma bovis mastitis in prepubertal heifers on 2 dairy herds. Canadian Veterinary Journal, 49: 1110-1112.

Godinho, K., Rae, A., Windsor, G., Tilt, N., Rowan, T., Sunderland, S. (2005) Efficacy of tulathromycin in the treatment of bovine respiratory disease associated with induced Mycoplasma bovis infections in young dairy calves. Veterinary Therapeutics, 6: 96-112.

Gourlay, R., Thomas, L., Wyld, S., Smith, C. (1989) Effect of a new macrolide antibiotic (tilmicosin) on pneumonia experimentally induced in calves by Mycoplasma bovis and Pasteurella haemolytica. Research in Veterinary Science, 47: 84-89.

Maunsell, F., Donovan, A. (2009) Mycoplasma bovis infections in young calves. Veterinary Clinics of North America: Food Animal Practice, 25: 139-177. https://doi.org/10.1016/j.cvfa.2008.10.011

Margineda, C., Zielinski, G., Jurado, S., Alejandra, F., Mozgovoj, M., Alcaraz, A., López, A. (2017) Mycoplasma bovis pneumonia in feedlot cattle and dairy calves in Argentina. Brazilian Journal of Veterinary Pathology, 10: 79-86. https://dx.doi.org/10.24070/bjvp/1983-0246.v10i2p79-86

Neder, V.E., Amadio, A.F., Calvinho, L.F. (2021) Detection by multiplex PCR of Mycoplasma species associated with dairy cattle in Argentina. Revista Argentina de Microbiología. S0325-7541(21)00079-1. doi: 10.1016/j.ram.2021.07.001.

Nicholas, R., Ayling, R. (2003) Mycoplasma bovis: disease, diagnosis, and control. Research in Veterinary Science, 74: 105-112. https://dx.doi.org/10.1016/s0034-5288(02)00155-8

Pfützner, H., Sachse, K. (1996) Mycoplasma bovis as an agent of mastitis, pneumonia, arthritis and genital disorders in cattle. Revue scientifique et technique (International Office of Epizootics), 15: 1477-1494.

Shahriar, F., Clark, E., Janzen, E., West, K., Wobeser, G. (2002) Coinfection with bovine viral diarrhea virus and Mycoplasma bovis in feedlot cattle with chronic pneumonia. Canadian Veterinary Journal, 43: 863-868.

Sosa C, Tirante L, Chaves J, Pol M, Ambrogi A, Giraudo JA, Tamiozzo P. (2018). Identificación de especies de Mycoplasma y de Ureaplasma diversum en rodeos lecheros de Argentina [Identification of species of Mycoplasma and Ureaplasma diversum from Argentinian dairy herds]. Revista Argentina de Microbiología. 50(1):31-35. Spanish. doi: 10.1016/j.ram.2017.02.010.

Sprecher, D., Hostetler, D., Kaneene J. (1997) A lameness scoring system that uses posture and gait to predict dairy cattle reproductive performance. Theriogenology, 47: 1179-1187. https://doi.org/10.1016/s0093-691x(97)00098-8

Thomas, A., Dizier, I., Trolin, A., Mainil, J., Linden, A., Ball, H., Bell, C. (2002) Isolation of mycoplasma species from the lower respiratory tract of healthy cattle and cattle with respiratory disease in Belgium. Veterinary Record, 151: 472-476. http://dx.doi.org/10.1136/vr.151.16.472

Thomas A, Dizier I, Linden A, Mainil J, Frey J, Vilei EM. (2004). Conservation of the uvrC gene sequence in Mycoplasma bovis and its use in routine PCR diagnosis. The Veterinary Journal 168(1):100-2. doi: 10.1016/j.tvjl.2003.10.006. PMID: 15158215.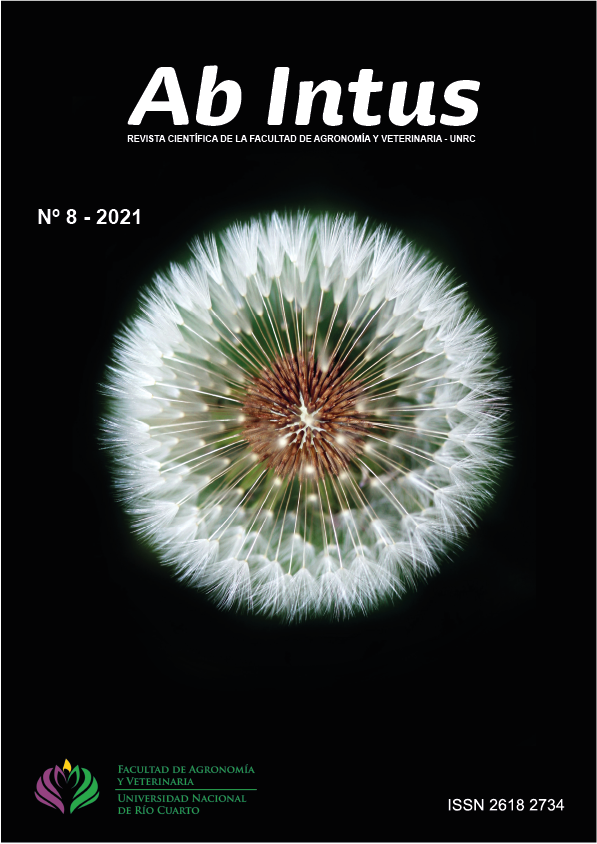 Sección
Reportes de casos
Esta obra está bajo licencia internacional
Creative Commons Reconocimiento-NoComercial-CompartirIgual 4.0
.
La aceptación de colaboraciones por parte de la revista implica la cesión no exclusiva de los derechos patrimoniales de los autores a favor del editor, quien permite la reutilización bajo Licencia Creative Commons Atribución-NoComercial-CompartirIgual 4.0 Internacional (https://creativecommons.org/licenses/by-nc-sa/4.0/deed.es).