Identificación in silico de regiones repetidas en tándem en el genoma de Ureaplasma diversum: Implicancias en el desarrollo de un esquema MLVA para la tipificación del agente
Sofía Gutierrez

Departamento de Patología Animal, Facultad de Agronomía y Veterinaria, Universidad Nacional de Río Cuarto. Córdoba, Argentina

Jimena Seitz

Departamento de Patología Animal, Facultad de Agronomía y Veterinaria, Universidad Nacional de Río Cuarto. Córdoba, Argentina

Fernando Ibañez

Departamento de Ciencias Naturales, Facultad de Ciencias Exactas, Fisicoquímicas y Naturales, Universidad Nacional de Río Cuarto. Córdoba, Argentina. Consejo Nacional de Investigaciones Científicas y Técnicas (CONICET), Argentina.

José Ángel Giraudo

Departamento de Patología Animal, Facultad de Agronomía y Veterinaria, Universidad Nacional de Río Cuarto. Córdoba, Argentina

Pablo Tamiozzo

Departamento de Patología Animal, Facultad de Agronomía y Veterinaria, Universidad Nacional de Río Cuarto. Córdoba, Argentina
Resumen
Ureaplasma diversum es un microorganismo patógeno que ha sido detectado en bovinos y en cerdos. Diferentes tipologías genéticas del agente han sido identificadas con anterioridad mediante técnicas pocos reproducibles o que conducen a resultados poco concluyentes. El objetivo del presente trabajo fue identificar in silico regiones repetidas en tándem (TR) en el genoma de U. diversum. Se analizó el genoma de la cepa U. diversum ATCC 49782, identificando las TR. Una vez identificadas las TR se diseñaron cebadores específicos, se realizó una PCR in silico y los productos fueron alineados contra la base de datos BLAST para determinar la especificidad de los mismos. De las 51 TR especie-específicas identificadas, el 54,9% (28) codificarían para proteínas hipotéticas, las restantes estarían ubicadas en regiones intergénicas. El tamaño de las TR identificadas varió entre 2 y 102 pares de bases, repetidas entre 1,9 y 21,5 veces, lo que permitiría discriminarlas por electroforesis o secuenciación. La identificación de un amplio repertorio de TR es el primer paso para la genotipificación del agente mediante un Análisis de Múltiples Locus de Regiones Repetidas en Tándem (MLVA), que constituiría un método más rápido, práctico y reproducible que otros métodos de tipificación previamente informados.
In silico identification of tandem repeats in Ureaplasma diversum genome: potential application to develop a MLVA scheme for typing of the agent
Abstract. Ureaplasma diversum is a pathogenic microorganism detected in cattle and pigs. Different genetic types of the agent have previously been identified with techniques producing poor reproducible or inconclusive results. The objective of the present study was to identify in silico tandem (TR) repeated regions in the genome of U. diversum. The genome of the strain ATCC 49782 was analyzed, identifying tandem repeated regions (TR). For each of the identified TR, specific primers were designed, an in silico PCR was performed and the products were aligned against BLAST database to determine their specificity. Of the 51 species-specific TR identified, 54.9% (28) encoding hypothetical proteins, and the rest is located in intergenic regions. The size of the identified TR varied from 2 to 102 base pairs (bp), repeated between 1.9 and 21.5 times, which would allow to discriminate them by electrophoresis or sequencing. The identification of a wide repertoire of TR is the first step for the genotyping of the agent by a Multiple-Locus Variable Number Tandem Repeat Analysis (MLVA), which would constitute a faster, more practical and reproducible method than other typing methods previously reported.
Citas
Benson G. (1999). Tandem repeats finder: a program to analyze DNA sequences. Nucleic Acids Res. 27 (2): 573-580.

Burgher Y., Miranda L., Rodriguez-Roche R., de Almeida Campos A.C., Lobo E., Neves T., Martínez O., Timenetsky J. (2014). Ureaplasma diversum in pneumonic lungs of swine. Infect Genet Evol. 21:486-488. doi: 10.1016/j.meegid.2013.07.003.

Buzinhani M., Buim M.R., Yamaguti M., Oliveira R.C., Mettifogo E., Timenetsky, J.. (2007) Genotyping of Ureaplasma diversum isolates using pulsed-field electrophoresis. Vet J.; 73(3): 688–690. S1090-0233(06)00039-6 [pii] doi: 10.1016/j.tvjl.2006.02.001

Dos Santos L.F., Clavijo M.J., Sreevatsan S., Rovira A., Moreira M.A., Pieters M. (2015) Genotyping of Mycoplasma hyorhinis using multiple-locus variable number tandem repeat analysis. J Microbiol Methods. 111:87-92. doi: 10.1016/j.mimet.2015.02.003.

Hata E., Suzuki K., Hanyu H., Itoh M., Higuchi H., Kobayashi H. (2014). Molecular epidemiology of cases of Mycoplasma californicum infection in Japan. Appl Environ Microbiol. 80 (24): 7717-7724. doi: 10.1128/AEM.02488-14.

Joukhadar, R. y Jighly, A. (2012). Microsatellites grant more stable flanking genes. BMC Res Notes 5:556. doi: 10.1186/1756-0500-5-556.

Lindstedt, B.A. (2005). Multiple-locus variable number tandem repeats analysis for genetic fingerprinting of pathogenic bacteria. Electrophoresis. 26 (13): 2567-2582.

Marques L.M., Buzinhani M., Guimaraes A.M., Marques, R.C., Farias S.T., Neto R.L., Yamaguti M., Oliveira R.C., Timenetsky J. (2011). Intraspecific sequence variation in 16S rRNA gene of Ureaplasma diversum isolates. Vet microbiol 152(1–2): 205–211. doi: 10.1016/j.vetmic.2011.04.007

Marques L.M., Guimarães A.M., Martins H.B., Rezende I.S., Barbosa M.S., Campos G.B., do Nascimento N.C., Dos Santos A.P., Amorim A.T., Santos V.M., Messick J.B., Timenetsky J. (2015). Genome Sequence of Ureaplasma diversum Strain ATCC 49782. Genom Announc. 3(2). pii: e00314-15. doi: 10.1128/genomeA.00314-15.

Miller R., Chelmonska-Soyta A., Smits B., Foster R., Rosendal S. (1994). Ureaplasma diversum as a cause of reproductive disease in cattle. Vet Clin North Am: Food Anim Pract. 10, 479-490.

Pinho L., Thompson G., Rosenbusch R., Carvalheira J. (2012). Genotyping of Mycoplasma bovis isolates using multiple-locus variable-number tandem-repeat analysis. J Microbiol Methods. 88 (3):377-385. doi: 10.1016/j.mimet.2012.01.003.

Seitz J., Sticotti E., Giruado J., Tamiozzo P. (2018). [Detection of Ureaplasma diversum in cows with and without granular vulvovaginitis from Argentina]. Ab Intus. 1, 89-92.

Vranckx K., Maes D., Calus D., Villarreal I., Pasmans F., Haesebrouck, F. (2011). Multiple-locus variable-number tandem-repeat analysis is a suitable tool for differentiation of Mycoplasma hyopneumoniae strains without cultivation. J Clin Microbiol. 49 (5): 2020-2023. doi: 10.1128/JCM.00125-11.

Zhou K., Aertsen A., Michiels C.W. (2014). The role of variable DNA tandem repeats in bacterial adaptation. FEMS Microbiol Rev. 38 (1): 119-141. doi: 10.1111/1574-6976.12036.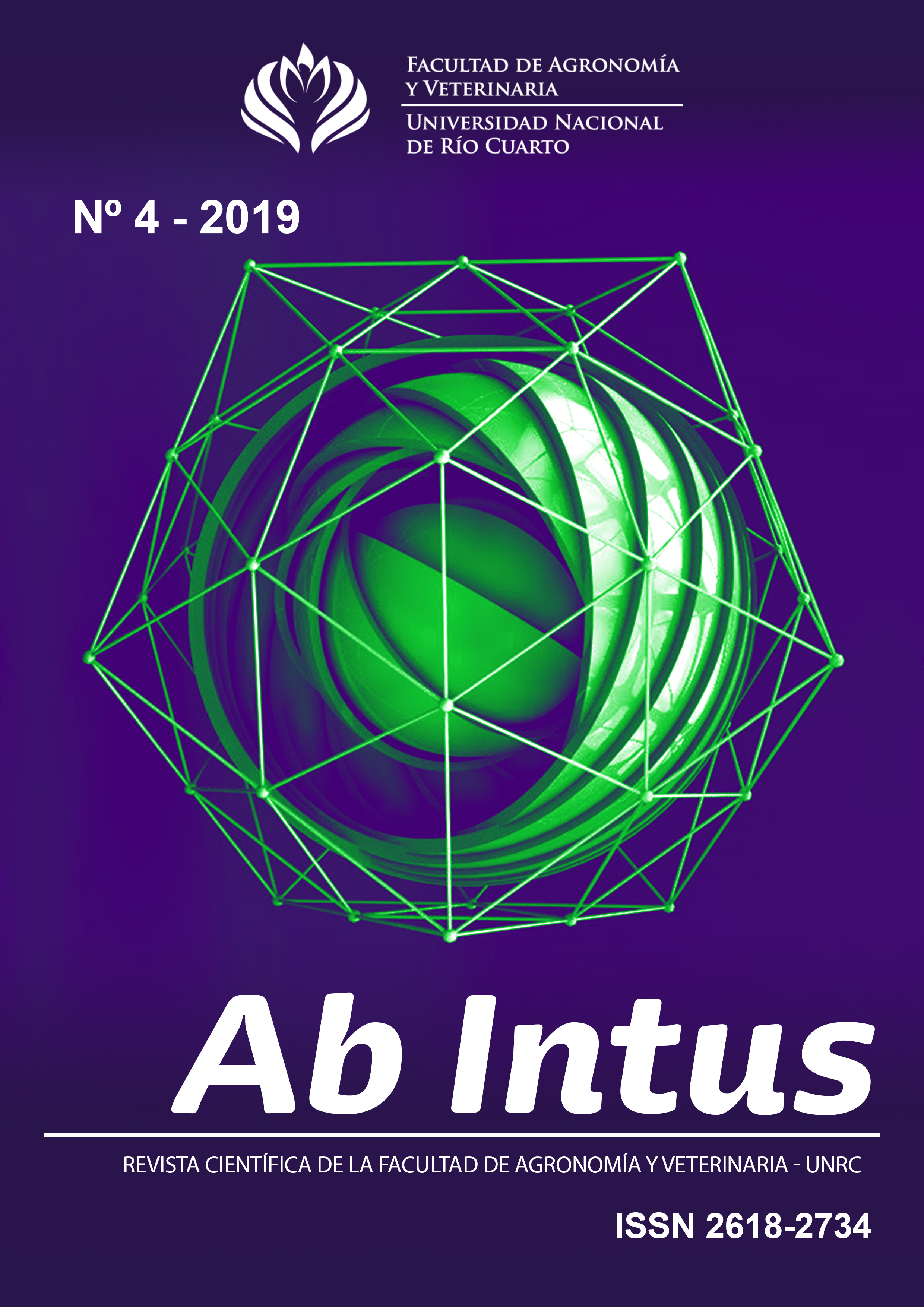 ##submission.howToCite##
GUTIERREZ, Sofía et al. Identificación in silico de regiones repetidas en tándem en el genoma de Ureaplasma diversum: Implicancias en el desarrollo de un esquema MLVA para la tipificación del agente.
Ab Intus
, [S.l.], v. 2, n. 4, p. 93-102, dec. 2019. ISSN 2618-2734. Disponible en: <
http://www.ayv.unrc.edu.ar/ojs/index.php/Ab_Intus/article/view/115
>. Fecha de acceso: 09 apr. 2020
Esta obra está bajo licencia internacional
Creative Commons Reconocimiento-NoComercial-CompartirIgual 4.0
.